ATV Tour Tamarindo Beach-Flamingo Beach
There are many Costa Rica ATV tours to choose from.  With that said, you should be careful that the company you are dealing with has the proper licensing with ICT, MOPT and carries ample insurance.  There are a lot of unregistered companies out there.  As this is not the safest activity, choosing the wrong company could be a big problem.
Drivers of ATVs must be at least 17 years old and possess a valid drivers license.  You will always be required to present this, so be sure to bring it with you on the tour.  Most Costa Rica ATV tour operators will allow kids over 12 years old to ride double with their parents or guide.  Always check policies with the provider before reserving.
If you're looking for adventure on your next Costa Rica vacation, driving an ATV through the tropical jungle, across rocky beaches and through rushing rivers should be first on your list! TVs are all-terrain vehicles that you allow you speed across trails, glide over rocky terrain and splash through muddy paths while you look for monkeys, sloths, tropical birds and iguanas hiding in the surround tropical wet or dry forest. 
Who can experience an ATV Tour safely?
Basically anyone can enjoy an ATV adventure.  It does not matter what skill level or amount of experience you have off-roading, ATV tours across Costa Rica have trails and machines for all skill levels. For those that are new to the sport, there are smoother trails that allow you to practice until you feel ready for more challenging paths
Activities
After fitting of the safety equipment and instructions, You will then head on an exciting ATV or UTV Side by side tour to discover the beauty of the beaches small part in the jungle and mountains through a off road dirt road.The circuit includes passing through a river, this is an adventure tour that includes a percentage of risk that might increase according to your performance. long the way you'll see some of the area's rare trees, including Guanacaste, pochote and teak trees. You'll recognize Guanacaste trees by their enormous crowns – the branches are often so wide they hide the tree trunk. Pochote and teak trees have become endangered because of the enormous popularity of their lumber. These trees provide a habitat for monkeys and birds. Your tour will go to Pirates' Bay Beach (which is called "Playa Bahía de los Pirates" in Spanish) , puerto viejo and if we have time visit Minas or Pedregoza Beach After a wonderful outdoor adventure, you will be taken back to the central meeting point and then your hotel.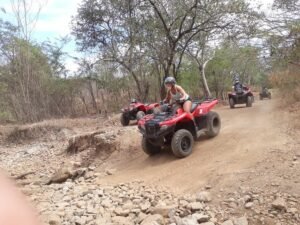 Round trip Transportation; from any hotel or Private Home in Tamarindo included

Safety Equipment.

English Speaking Tour Guide.

Bottle of Water

Duration 2 hours
Safety Precautions and What to bring?
Safety is always the number one priority when riding anywhere. Tour operators make sure everyone is equipped with a helmet and googles.  Before the start of the tour, tour operators will teach you basic ATV techniques and what to do in case of emergency. Guides will drive alone with you the entire way, so there's no need to worry about getting lost. Soon after the safety demonstration you'll be winding through trees in the forest like a pro!